Súrál keramik froðusían getur komið í veg fyrir innlimun agnir og óhreinindi sem eru stærri en svitaholastærð síuyfirborðsins.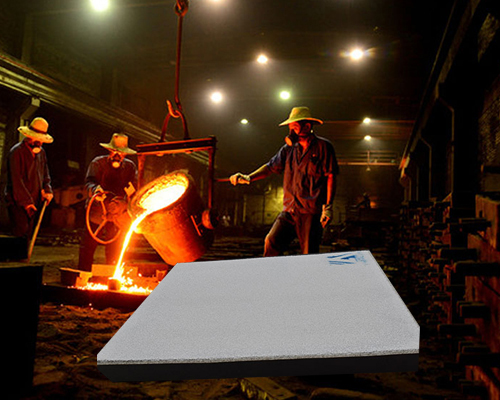 Álsteypa er aðferð við að hella bráðnu áli í mót og kæla það til að mynda álhluta með æskilegri lögun. Álið sem notað er fyrir steypt ál kallast steypt ál.
Steypt ál er eins konar hreint ál eða álblendi sem er útbúið í samræmi við stöðluðu samsetningarhlutfallið, og síðan tilbúið hitað til að gera það í fljótandi eða bráðnu ástandi álblöndunnar, og síðan er álblöndunni hellt í gegnum faglegt bráðið ál eða bráðið mót eða samsvarandi ferli. Ferlið við að fara inn í holrúmið og kæla til að mynda álhluta með viðkomandi lögun.
Innihald og lofttegundir í málminum hafa veruleg áhrif á styrkleika, tæringarþol og álagstæringarsprunguvirkni efnisins. Að stjórna á áhrifaríkan hátt oxuðu innihaldsefninu í bræðslunni og bæta gæði steyptra stanga og valsplatna hefur orðið sameiginlegt markmið sem málmvinnslu-, steypu- og efnisiðnaður allra landa eltir. Sem stendur er hreinsunaraðferð súráls keramik froðu síu fyrir málmsteypu mikið notuð til að fjarlægja innifalið í álbræðslu.
Súrál keramik froðusían er notuð til að fjarlægja óhreinindi og hreinsa álvökvann. Eftir síun lækkar seigja álvökvans og vökvi álblöndunnar eykst um 10% -15%. Þess vegna bætir síun fyllingargetu álvökvans.
Flæði álblendisvökvans fyrir síun er ókyrrt og eftir síun er það lagskipt (flæðisrás froðukeramiksíunnar er snúið og snúið), sem dregur úr aðdraganda og efri gjallmyndun.
Eftir því sem síunin heldur áfram er sían sigtuð og síukakan umbreytt í djúpsíun og hreinleiki álblöndunnar eftir síun verður sífellt meiri.
The alumina foam ceramic filter is used to remove impurities and purify the aluminum alloy liquid. After filtration, the viscosity of the aluminum alloy liquid decreases, and the fluidity of the aluminum alloy liquid increases by 10%-15%. Therefore, filtration improves the filling capacity of the aluminum alloy liquid.
The flow of the aluminum alloy liquid before filtration is turbulent, and after filtration, it is laminar (the flow channel of the foam ceramic filter is twisted and turned), which reduces entrainment and secondary slagging.
As the filtration progresses, the filter is sieved and the filter cake is transformed into deep bed filtration, and the purity of the aluminum alloy after filtration is getting higher and higher.