Alumina ceramic foam filter is mainly applied for filtration of aluminum and aluminum alloys in foundries and cast houses. With their excellent resistance to attack and corrosion from molten aluminum, they can effectively remove inclusions, reduce trapped gas and provide laminar flow, and then the filtered metal is significantly cleaner. Cleaner metal results in higher-quality castings, less scrap, and fewer inclusion defects, all of which contribute to bottom-line profit.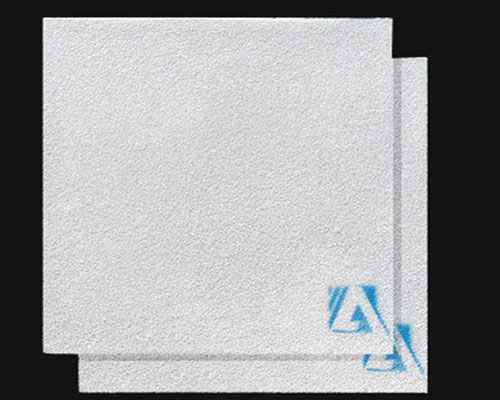 The presence of nonmetallic inclusions is detrimental to the production of premium quality castings. High attainable mechanical properties are a key aspect that is readily lost in the presence of inclusions and oxide skins. The mechanical properties of high-strength aluminum alloys are very sensitive to notches or imperfections in the casting. Filtration effectively reduces inclusion levels and subsequent notch effects caused by inclusions. Conventional techniques for attempting to remove inclusions are ineffective, and the use of metal or fiber screens isn't sufficient to keep the metal truly free of harmful non metallics.
Alumina ceramic foam filter for molten aluminum filtration can be made by specific procedures and have peculiar bone-frame holes just like the shape of foam (Called three-dimensional connected channel) and myriad eyelets which only been found in big-time microscope.
Why Choose Adtech Ceramic Foam Filters Manufacturer for Aluminum Alloys
Professional team strengths in scientific research
Technological innovation, product quality assurance
Advanced production equipment
Service and price advantages
Professional team customizes products that meet the requirements
Ceramic foam filter manufacturer AdTech Metallurgical Materials Co., Ltd. covers an area of more than 100 acres, the existing standardized plant and storage area of more than 20,000 square meters, office building 1988 square meters, registered capital of 12 million yuan, sales company "Henan Ivins Metallurgical Materials Co., Ltd." is located in Garden Road 39, with First-class sales force, perfect integrated management system, market influence covering China (China Aluminum, Zhongwang, Weiqiao, Midas and other well-known companies), Middle East (Ba Forestry, Dubai Aluminum, Midal Cables), Southeast Asia (Jili, Global, Jinda), Europe (Hiderru, Rusal) and dozens of other countries and regions have established long-term cooperation relationships with a number of internationally renowned companies. Filter equipment and high-temperature filtration purification materials provider and solution provider.