Aluminum alloy filtering processes are accomplished by passing the porous ceramic foam filter medium. Ceramic foam filters offer a simple, reliable and cost-effective method to remove inclusions. Filtering with CFF is a supplement to aluminum alloy treatment within the furnace, such as fluxing and degassing or inline filtration.
Molten aluminum in practice generally contains entrained solids that are harmful to the final cast metal product. These entrained solids generally come from three sources. Some are aluminum oxide particles that are sucked into the liquid stream from the oxide layer floating on its surface, and some entrained particles are fragments of furnace coating, transfer pan, and others parts of molten aluminum handling equipment that are eroded and entrained in the flowing aluminum stream, and some particles are precipitates of insoluble impurities such as intermetallics, borides, carbides or precipitates other aluminum compounds, such as chlorides.
When these inclusions appear in the final cast product after the molten aluminum has solidified, they make that final product less ductile or exhibit poor finish characteristics. Accordingly, it is desirable to remove entrained solids from the stream of molten aluminum before it is cast into a solid body which can be used as such or subjected to forming operations such as rolling, forging, etc. extrusion, etc.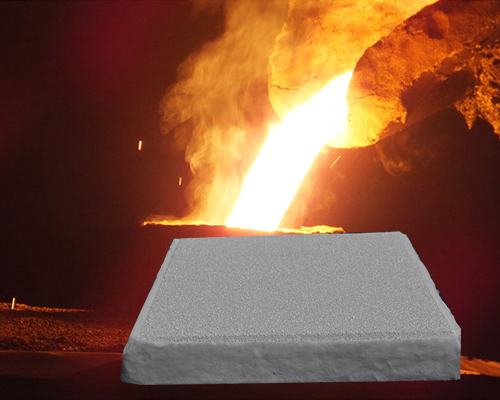 Процессы фильтрации из алюминиевых сплавов осуществляются путем пропускания фильтрующего материала пористой керамической пены. Пенокерамические фильтры представляют собой простой, надежный и экономичный метод удаления включений. Фильтрация CFF является дополнением к обработке металла в печи, такой как флюсование и дегазация или встроенная фильтрация.
На практике расплавленный алюминий обычно содержит унесенные твердые частицы, которые вредны для конечного литого металлического продукта. Эти увлеченные твердые частицы обычно поступают из трех источников. Некоторые из них представляют собой частицы оксида алюминия, которые всасываются в поток жидкости из слоя оксида, плавающего на его поверхности, а некоторые захваченные частицы представляют собой фрагменты покрытия печи, передаточного поддона и других частей оборудования для обработки расплавленного алюминия, которые подвергаются эрозии и захватываются потоком. поток алюминия, и некоторые частицы представляют собой осадки нерастворимых примесей, таких как интерметаллиды, бориды, карбиды, или осадки других соединений алюминия, таких как хлориды.
Когда эти включения появляются в конечном литом продукте после затвердевания расплавленного алюминия, они делают этот конечный продукт менее пластичным или демонстрируют плохие характеристики отделки. Соответственно, желательно удалить унесенные твердые частицы из потока расплавленного алюминия перед его отливкой в ​​твердое тело, которое можно использовать как таковое или подвергать операциям формования, таким как прокатка, ковка и т. Д., Экструзия и т. Д.