The ceramic filtration system is resistant to the molten metal being filtered, and resistant to thermal shock, erosion and corrosion, allowing molten metal to flow through it.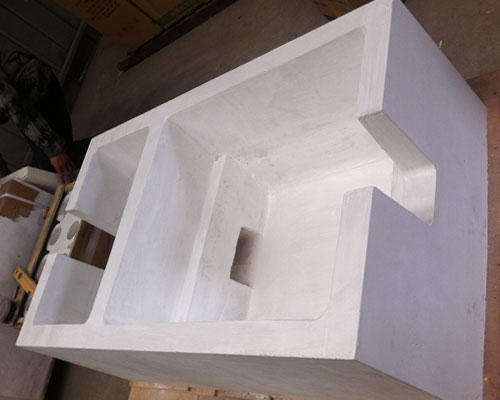 The ceramic filtration system has a barrier located immediately downstream of the ceramic foam filter. There are many uses for barriers. First, it collects the initial melt used to infuse the porous filter member and forms it into a heated molten metal pool. As additional molten metal flows through the filter member, the molten metal in the pool is reheated. This heated molten metal pool helps to start the process and helps reduce the heat loss of the molten metal during the filtration process. This is largely due to the presence of hot molten metal on both sides of the filter assembly.
Another advantage of the filtration system is that the molten metal passing through the system travels at a higher flow rate due to reduced heat loss. As a result, the metal is less likely to freeze in the casting nozzle. It can be said that the molten metal flowing through the filter system can better retain heat.
The baffle in the filtration system is also used to produce an ideal upward flow of molten metal. Due to this upward movement, any inclusions remaining in the molten metal passing through the filter member form a thin surface layer.
The top of the dam wall is approximately at the same height as the uppermost edge of the porous filter member. Of course, once the height of the dam is determined for the wall, its position downstream of the filter assembly can be determined.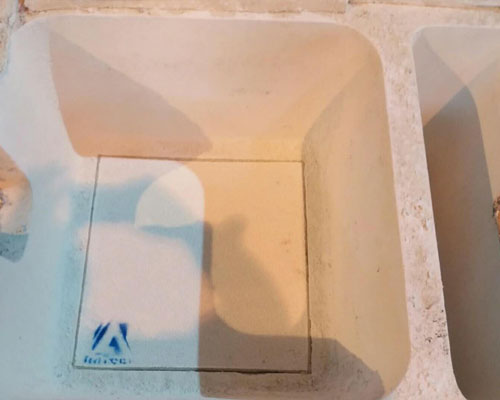 In operation, molten metal is poured into the CFF filter system. The initial flow of molten metal is used to fill the ceramic foam filter. This initial flow is prevented by the dam wall from entering the outlet. Instead, it collects in the space between the filter assembly and the dam wall to form a pool of heated molten metal. When more molten metal flows through the filter, the additional molten metal is moved up by the dam wall. The additional molten metal is also used to raise the temperature of the collected molten metal and keep it at a useful reheat temperature. Due to the presence of heated metal on both sides of the filter assembly, the filter assembly can be used in a variety of continuous or discontinuous casting systems.