What are the characteristics of a liquid aluminum rotary degassing
A kind of aluminum liquid rotary degassing as claimed in claim 4, is characterized in that, the straight line that the bottom surface center point of described outlet interface launder forms is tangent to the lowest point of the curved surface structure of the described bottom wall.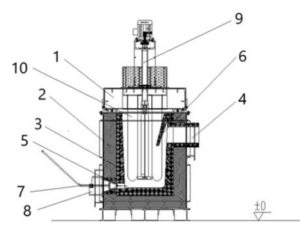 A kind of aluminum liquid degassing box as claimed in claim 4, is characterized in that, the cross-section of described outlet interface chute gradually becomes larger from the end that described bottom wall communicates towards the outside.
A liquid aluminum rotary degassing as claimed in claim 4, is characterized in that, the plug includes a plug cone and an operating rod; the plug cap is set on the plug cone; the plug cone is conical, the size is the same as the inner hole of the flow tank of the outlet interface; the operating rod is equipped with a card position, which can fix the plug on the plug frame; the plug frame is installed on the box body.
A liquid aluminum degassing device is characterized in that it comprises a rotary degassing, a heating device, and the liquid aluminum degassing box according to any one of claims 1-8, the degassing device and the heating device are installed on the lid.
technical field
The utility model relates to the technical field of metallurgical equipment, in particular to a kind of liquid aluminum degassing box and aluminum liquid degassing equipment. Background technology
Background technique
At present, in the aluminum melting and casting process of the aluminum industry, high-temperature aluminum liquid arrives at the nozzle or casting well successively through the holding furnace, degassing device, and filtering device through launder drainage from the smelting furnace. The aluminum liquid degassing unit and the aluminum liquid degassing equipment belong to the degassing device.