The porous ceramic foam material is known to be particularly useful in filtering molten metal. This porous ceramic foam material is particularly useful for filtering molten metal for a variety of reasons, which are the excellent filtration efficiency, low cost, ease of use, and ability to use same on a disposable, throwaway basis.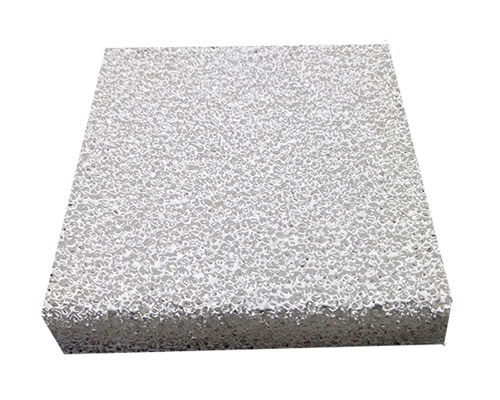 Molten metal, particularly molten aluminum, in practice generally contains entrained solids that are deleterious to the final cast metal product. These entrained solids appear as inclusions in the final cast product after the molten metal is solidified. And cause the final product to be less ductile or to have poor bright finishing and anodizing characteristics. The inclusions may originate from several sources. For example, the inclusions may originate from surface oxide films which become broken up and are entrained in the molten metal. In addition, the inclusions may originate as insoluble impurities, such as carbides, borides, and others, or eroded furnace and trough refractories.
These porous ceramic foam filters are convenient and inexpensive to prepare and may be used on a throwaway, easily and conveniently assembling and removing.
Since the ceramic foam filters are designed to be a throwaway item, it is essential to provide an effective means of sealing the filters in place in its holder which is easy to assemble, disassemble and clean up. The molten metal filter is installed into a filtration unit while providing a highly efficient filtration assembly.
A ceramic foam filter having an integral gasket and a method of forming the filter. It is greatly preferred to seal the filter plate in place using a gasket type seal peripherally circumscribing the filter plate at the bevelled portion thereof. The gasket-type seals ensure a leak-free installation. The ceramic foam filters were gasketed with pre-cut strips of low density ceramic fiber having an organic binder. The straight pre-cut strips were simply taped to the bevelled edges of the filters after the filter had been baked and fired.