Aluminum Foundry Molten Metal Filtration effectively reduces the level of inclusions and the subsequent notch effect caused by inclusions. Traditional techniques for removing inclusions are ineffective, and the use of metal or fiber screens is not enough to keep metals away from harmful non-metals. The aluminum foundry uses a ceramic foam filter for molten metal filtration, the casting defects are reduced. High-quality castings often limit the acceptance of surface defects found in dye penetrant inspection.
The existence of non-metallic inclusions is not conducive to the production of high-quality castings. Highly obtainable mechanical properties are a key aspect, and it is easy to lose the presence of inclusions and oxide scale. The mechanical properties of high-strength aluminum alloys are very sensitive to nicks or defects in the casting.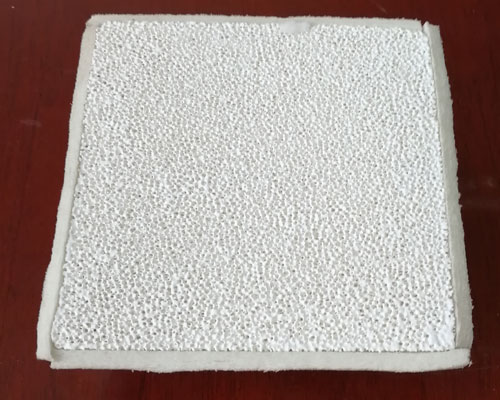 In order to reduce the influence of gas and non-metallic inclusions, people have put forward strict requirements on the raw materials and smelting process of alloy preparation on the one hand. On the other hand, they are committed to the research and application of advanced new technologies for melt purification.
Foundry Filter effectively removes the mixture of solid and molten aluminium, so that aluminum alloy can be successfully forged, aluminum foil manufacturing, extrusion processing technology, and perfect aluminum products.
Filter for Molten Alu has the characteristics of high temperature resistance, corrosion resistance, metal melting corrosion resistance, high strength, high pass rate, and large specific surface area. It is mainly used in the field of metallurgy and casting metal liquid filtration. The flow of the molten metal mixture is transferred to the field. The porous structure of the ceramic foam filter becomes uniform, smooth and clean. The molten metal fills the mold to remove the micron fineness of molten steel inclusions and some enveloping gas to reduce sand erosion and reduce product scrap rate. Alumina ceramic filters can be made with different pore sizes and porosities to obtain satisfactory filtering effects.