In mid-November 2018, AdTech company paid a friendly business visit to Turkey. President Xiong and sales manager Dong successively visited about 15 customers, and were very rewarding. On the 19th, they visited a large local aluminum plant in Turkey, and were warmly welcomed by the other party. The relevant person in charge of the Turkish aluminum plant has a strong interest in AdTech filtering equipment for sale, degassing equipment, filter plates, hot top accessories, ceramic fiber caster tip for sale, and other products. And they had in-depth discussions with our staff and reached a preliminary cooperation intention.
President Xiong and the sales manager went deep into the workshop of the Turkey aluminum plant. And they had in-depth exchanges with technicians and workshop production personnel. They expressed their appreciation for the Turkey advanced casting technology level. At the same time, President Xiong put forward suggestions about refractory materials and filtering equipment, and get their approval.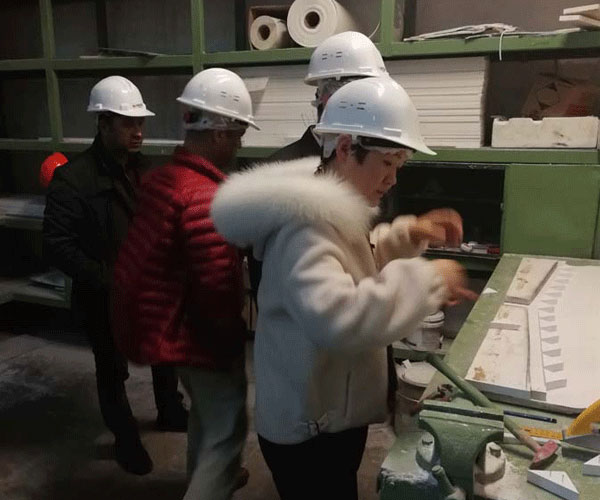 Caster Tip Manufacturer
Caster Tip has uniform distribution of internal short fiber structure, moderate density, good thermal insulation, precise size, high oxidation resistance, no delamination and no block drop, low deformation, effectively protect the surface quality of cast and rolled coil, with boron nitride The effect of coating is better. Caster tip for sale is used in the casting and rolling process of multiple series of cast and rolled aluminum alloy products: micron-level aluminum foil wool, PS plate base for printing, elastic packaging materials, etc.
Advantages
1. High-precision equipment processing, small size tolerance.
2. The key parts are reinforced with nano-coating, which will not drop slag and resist aluminum liquid corrosion.
3. Symmetrical flow channel to meet the requirements of aluminum liquid hydrodynamics.
4. Effectively control the constant temperature of the casting and rolling area parameters.
5. Low deformation, easy to adjust the gap of the nozzle roller, improve the surface quality of the aluminum foil blank, and effectively improve the white stripes and dark lines.