Foam ceramic filter is the last technology for molten aluminum filtration. It is particularly important to choose the foam ceramic filter board. According to the environment of each foundry, choose the best ceramic foam filter and obtain high cleanliness of molten aluminum. The choice of foam ceramic filter plate depends on the impurity content in the molten aluminum, the flow rate of molten aluminum, and the quality requirement of the casting products.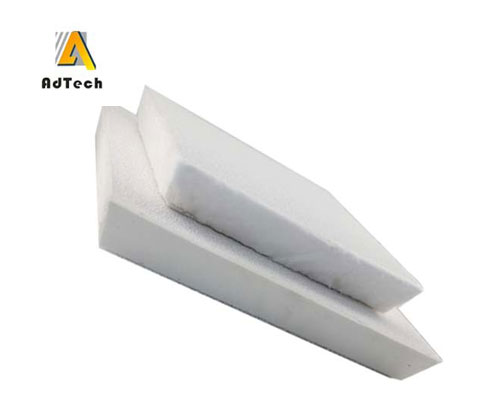 Aluminum is the most widely used and widely used metal material among non-ferrous metals, and its application range is still expanding. There are many types of aluminum products produced using aluminum materials, and various industries such as construction and decoration, transportation, and aerospace have different needs. So the molten aluminum with high cleanliness is important for aluminum processing products.
In order to prevent molten aluminum secondary pollution. In the casting section, the ceramic launder, front box, distribution plate, and hot cap made of fused quartz ceramics with long life, high strength, non-sticking aluminum, and good thermal insulation are used, and the possible pollution sources are eliminated by timely dehumidification and cleaning, so as to ensure the cleanliness of aluminum melt.
AdTech focuses on solving the problem of molten aluminum pollution. AdTech is a pioneer who pursues the brand relentlessly. AdTech has a complete production line of ceramic foam filters, online degassing filter equipment, castertip, and hot top casting parts. AdTech serves customers from dozens of countries, including China, the Middle East, Southeast Asia, Europe, etc. AdTech has established long-term relationships with a number of world-famous enterprises. We adhere to the principle of "Survive by Quality, Reputation by Service, Benefit by Brand, Problem-solving First, Customer Satisfaction First". Our company has stable product quality, strong technical strength, complete marketing service, and after-sales service team. AdTech Metallurgical Materials can guarantee the rapid, efficient, and accurate completion of customer needs.