Foundry alumina ceramic filter mainly for filtration of aluminum and alloys in cast houses. The filter can effectively remove inclusions, reduce trapped gases and provide laminar flow, so the filtered metal is significantly cleaner.
Cleaner metal results in better quality castings, less scrap and fewer embedding defects, which contributes to the bottom line.
Features of Foundy Alumina Ceramic Filter
-Reduce waste related to inclusions.
-Reduce the costs associated with inclusion defects.
-Increase productivity with higher extrusion or rolling speeds.
-Increase casting flexibility with easy alloy changes.
-No metal support.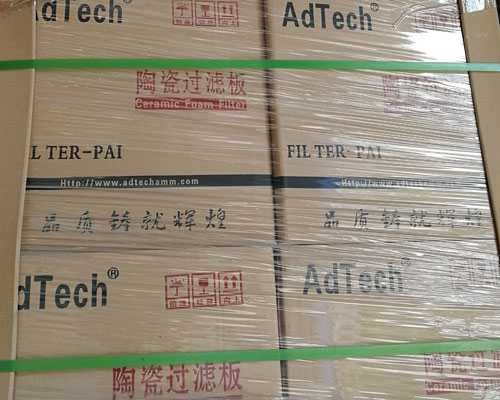 Foundry alumina ceramic foam filters are normally applied by placing them in a filter box. It is important to preheat the filter and the CFF filter box before use. During preheating, care should be taken to control both the rate of heating and the temperature distribution. This minimizes thermal shock and stress in the filters and the refractory of the filter box.
Before alumina ceramic foam filter can be used, it must be completely wetted with molten metal. This happens when starting the casting operation. The amount of metallostatic pressure (or priming head) required to wet the filters depends on the alloy, metal temperature, preheating uniformity, preheating temperature, incoming metal quality, pre-filter treatments and filter cell size.
Литейный глиноземно-керамический фильтр в основном для фильтрации алюминия и сплавов в литейных цехах. Фильтр может эффективно удалять включения, уменьшать количество захваченных газов и обеспечивать ламинарный поток, поэтому отфильтрованный металл значительно чище.
Более чистый металл приводит к лучшему качеству отливок, меньшему количеству брака и меньшему количеству дефектов заделки, что способствует увеличению чистой прибыли.
Характеристики керамического фильтра из литого глинозема
-Сокращение отходов, связанных с включениями.
-Снижение затрат, связанных с дефектами включения.
-Повышение производительности за счет более высоких скоростей экструзии или прокатки.
-Повышение гибкости отливки за счет легкой смены сплава.
-Нет металлической опоры.
Пенокерамические фильтры из литейной глинозема обычно применяются, помещая их в фильтровальную коробку. Перед использованием важно предварительно нагреть фильтр и коробку фильтра CFF. Во время предварительного нагрева следует следить за скоростью нагрева и распределением температуры. Это сводит к минимуму термический удар и напряжение в фильтрах и огнеупорном корпусе фильтра.
Прежде чем использовать фильтр, его необходимо полностью смочить расплавленным металлом. Это происходит при запуске операции литья. Величина металлостатического давления (или напорной головки), необходимого для смачивания фильтров, зависит от сплава, температуры металла, однородности предварительного нагрева, температуры предварительного нагрева, качества поступающего металла, предварительной обработки фильтра и размера ячейки фильтра.