The use of ceramic foam filters to remove inclusions in the foundry industry is well known. The ceramic foam filter works in a deep bed filtration mode, where inclusions smaller than the pore window remain on the entire cross-section of the filter. The capture of inclusions in deep bed filtration is considered to be the result of two consecutive events: the transportation of inclusions to the capture sites on the filter media and the adsorption of particles to these sites.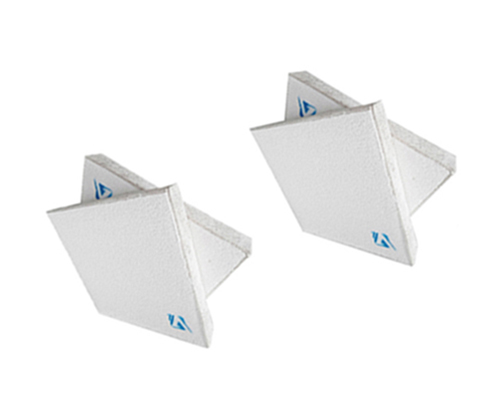 Ceramic Foam Filter Manufacturing Process
The ceramic foam filter is produced by infiltrating a reticulated polyurethane foam with ceramic slurry, removing excess slurry by squeezing a sponge impregnated with the slurry, then drying the ceramic coating, firing the sponge, and sintering the body.
Alumina powder and different ratios of bentonite and water are added to the powder mixture to prepare ceramic slurry. The ceramic content in the slurry is 45 wt%, which is the ideal rate for the slurry to penetrate the ceramic. When the ceramic impregnated sponge dries, the bentonite binds the alumina particles together on the surface of the sponge. Even, this boundary continues to exist during the burning of the polyurethane sponge. No ceramic damage was observed after the sponge burned out. Therefore, the sponge morphology is accurately replicated on the green ceramic foam burned by polyurethane at 500°C, and then a weak Al2O3 ceramic foam is obtained. In order to strengthen the foam and transform it into a cast filter, the green foam is sintered at 1250°C for 60 minutes. Finally, a highly porous aluminum cast filter is obtained. Surprisingly, no shrinkage was observed, and a uniform porosity and network structure were obtained. The pores are connected to windows necessary for filtering inclusions.
Casting tests show that the use of ceramic foam filters can be successfully used for aluminum melt filtration. The ceramic filter produced can also be used for flow control in the flow channel, so that there is no turbulence and folded oxide film when the melt flows. These cast filters are particularly suitable for filtering aluminum melts. Therefore, the alumina ceramic foam filter produced can be used in the aluminum casting industry as a casting filter.