AdTech alumina ceramic foam filter uses good foam and high purity ceramic as raw material, can remove non-metal solid mixture from molten aluminium and aluminium alloy effectively in your aluminium casting industry.
It is widely applied to the aluminium melt filter equipment of continuous casting, half-continuous casting, gravity casting, and low-pressure casting.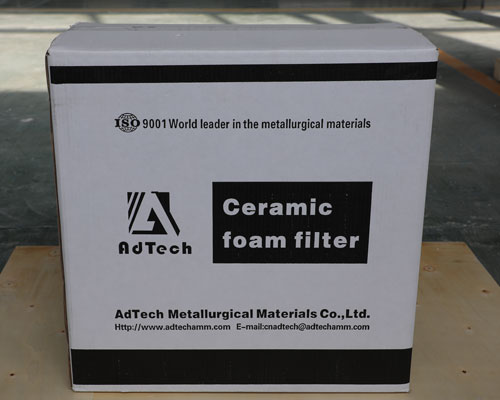 AdTech Ceramic Foam Filter for Aluminum Casting is alumina-based ceramic foam filter which are used for temperatures up to a limit of 1100℃. CFF-A is most suited for the filtration of aluminum and its alloys.
AdTech alumina ceramic foam filter can effectively remove and absorb large or small impurities in molten aluminum, improve the surface quality, product performance and microstructure effectiveness. Mainly used in aviation, transportation and other aluminum alloy precision casting.
Our filters clean aluminium used for billet casting, foil casting, slab ingot casting and all other critical applications.
Both filter and bowl are critical to proper filter performance. These elements will help you understant the filter performance and choose the best solution for your application.
AdTech focuses on the aluminium alloy casting industry to provide solutions for the ceramic foam filter system, hot-top casting system, caster tip solution etc.
Пенокерамический фильтр AdTech из глинозема использует в качестве сырья хорошую пену и керамику высокой чистоты, может эффективно удалять неметаллическую твердую смесь из расплавленного алюминия и алюминиевого сплава в вашей алюминиевой литейной промышленности.
Он широко применяется в оборудовании для фильтрации расплава алюминия непрерывного литья, полунепрерывного литья, литья под действием силы тяжести и литья под низким давлением.
Керамический пенный фильтр AdTech для алюминиевого литья – это пенокерамический фильтр на основе оксида алюминия, который используется при температурах до 1100 ℃. CFF-A наиболее подходит для фильтрации алюминия и его сплавов.
Пенокерамический фильтр AdTech из глинозема может эффективно удалять и поглощать крупные или мелкие примеси в расплавленном алюминии, улучшать качество поверхности, характеристики продукта и эффективность микроструктуры. В основном используется в авиации, транспорте и прецизионном литье из других алюминиевых сплавов.
Наши фильтры очищают алюминий, используемый для литья заготовок, литья фольги, литья слитков и всех других ответственных применений.
И фильтр, и стакан имеют решающее значение для правильной работы фильтра. Эти элементы помогут вам понять производительность фильтра и выбрать лучшее решение для вашего приложения.
AdTech специализируется на литье из алюминиевых сплавов, предлагая решения для системы фильтров из вспененной керамики, системы литья с горячим верхом, решения для литейных наконечников и т. Д.