Casting ceramic foam filter application includes the companies engaged in the rolling, drawing and extrusion of basic shapes of aluminum alloy such as plate, sheet, strip, bar and tube. In the aluminum continuous casting process, coolants and industrial water are used to cool the casting wheel or belt, lubricate the mill components and transfer aluminum particles and contaminants to the systems. filtration using gravity filters or vacuum filters. Particles and contaminants are removed by the filter and the system pumps transfer clean coolant to the workplace. Continuous casting also produces aluminum rods, sheets, and rolled products. The complete system sets include tanks, pumps, heat exchangers and controls.
Casting ceramic foam filter application includes companies that are engaged in the flat rolling of basic shapes of aluminum and aluminum base alloy, such as plate, plate and sheet. Also included is the production of similar products by continuous casting. For laminated aluminum applications, filtration of molten aluminum is required. The hot rolling process uses a water-soluble coolant that requires continuous flatbed air vacuum filtration to remove stains from the sheet. The cold rolling process uses a kerosene-based rolling oil which requires vacuum distillation recovery to remove heavy hydrocarbon oils and fats from the oil. Complete system sets including tanks, pumps.
Casting ceramic foam filter application includes companies engaged in rolling, drawing and other operations resulting in the production of aluminum wire, rods and bars continuously rolled and cast. Continuous casting wire drawing and wire drawing processes generally use straight drawing oil or water soluble coolant, depending on the application. To prevent the build-up of contaminants in the coolant, it must be continuously filtered. For viscous oils, a bypass centrifuge provides the required clarification. Complete system packages including tanks, pumps, heat exchanger and controls can be offered.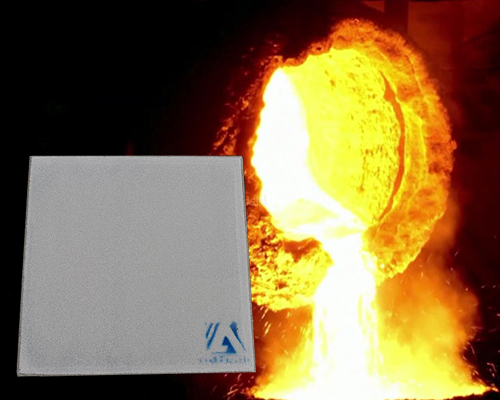 Применение керамических пенопластов включает компании, занимающиеся прокаткой, волочением и экструзией алюминиевых сплавов основных форм, таких как пластины, листы, полосы, стержни и трубы. В процессе непрерывной разливки алюминия охлаждающие жидкости и техническая вода используются для охлаждения литейного колеса или ленты, смазки компонентов мельницы и переноса частиц алюминия и загрязняющих веществ в системы. фильтрация с помощью гравитационных или вакуумных фильтров. Частицы и загрязнения удаляются фильтром, а системные насосы перекачивают чистую охлаждающую жидкость на рабочее место. Непрерывное литье также производит алюминиевые прутки, листы и прокат. Полный комплект системы включает резервуары, насосы, теплообменники и средства управления.
Применение керамических пенопластов включает компании, которые занимаются плоской прокаткой основных профилей из алюминия и алюминиевых сплавов, таких как листы, пластины и листы. Также включено производство аналогичных изделий методом непрерывной разливки. Для ламинированного алюминия требуется фильтрация охлаждающей жидкости. В процессе горячей прокатки используется водорастворимая охлаждающая жидкость, которая требует постоянной плоской вакуумной фильтрации воздуха для удаления пятен с листа. В процессе холодной прокатки используется прокатное масло на основе керосина, которое требует восстановления вакуумной перегонки для удаления тяжелых углеводородных масел и жиров из масла. Полные системные комплекты, включая резервуары, насосы.
Применение керамических пенопластов распространяется на компании, занимающиеся прокаткой, волочением и другими операциями, в результате которых производится непрерывно прокатываемая и литая алюминиевая проволока, прутки и стержни. В процессах непрерывного волочения проволоки и волочения проволоки обычно используется масло для прямого волочения или водорастворимая охлаждающая жидкость, в зависимости от области применения. Чтобы предотвратить накопление загрязняющих веществ в охлаждающей жидкости, ее необходимо непрерывно фильтровать. Для вязких масел необходимая очистка обеспечивает байпасная центрифуга. Могут быть предложены полные системные пакеты, включая резервуары, насосы, теплообменник и средства управления.