Ceramic foam filters for aluminum casting have been accepted as a successful method to reduce inclusions in molten metal during casting of metal parts.
During the melting and processing of molten aluminum, a film is usually formed on the surface of the molten metal. The film is mainly composed of aluminum oxide and its alloy components. The film is decomposed and dispersed in the molten metal for internal melting, processing, and transfer to the ladle or mold during stirring.
Although extreme care must be taken when refining molten metal, some finely divided non-metallic solids will remain in the solidified metal. Although such non-metallic impurities are harmless in certain castings, they are annoying in aluminum castings, especially when they prevent obtaining a fine finish or act as a nucleus for pore formation.
Molten metal filtration is used as a method to separate fine solid impurities suspended in the melt. AdTech's ceramic foam filter is the most effective way to filter molten aluminum. It can increase the initial flow rate and minimize clogging without loss of filtration efficiency.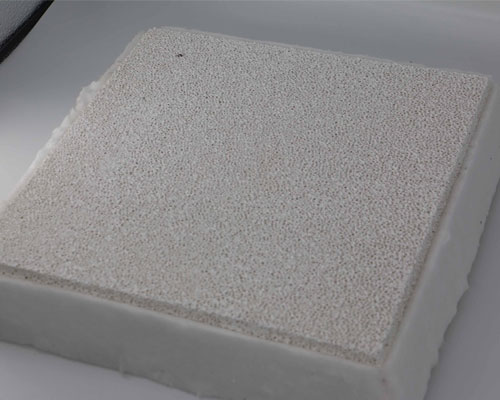 AdTech specially designed alumina ceramic foam filters are made of the basic raw material Aluminium Oxide. They are manufactured with porosities varying from 10 to 60 pores per inch (PPI). Also, combo sets are made in 20-30 PPI and other selections are possible. 30ppi 40ppi Foundry Filter is the most commonly used ceramic foam filter in the aluminum casting industry. Ordinary aluminum casting usually uses 10-40ppi ceramic filter plates. Aviation and high-quality aluminum materials usually use 30-60ppi ceramic filter plates. Different sizes and custom-made filters are manufactured according to specifications.
Ceramic Foam Filter Dimension
660x660x50(26″)
584x584x50(23″)
508x508x50(20″)
432x432x50(17″)
381x381x50(15″)
305x305x50(12″)
228x228x50(9″)
178x178x50(7″)
Ceramic Foam Filters for Aluminum Casting Features
Machined to tight dimensional tolerances
Excellent strength and thermal properties
Resistant to molten aluminium attack
Available in various sizes and grades
Reduced scrap
Better surface finish of castings
Increased metal quality