Launder System for Brazil Aluminium is mainly used for liquid Aluminium transport, used to connect liquid Aluminium in the normal transport between smelting furnace, degassing and filtration equipment and casting platform.
Advanced production technology is adopted to greatly improve the scouring and erosion resistance of the casting launder liner. Launder System has effectively service life of flow trough lining. With the use of our boron nitride coating, the aluminium – free effect is excellent.
Launder System for Brazil Aluminium Advantages
1. Good thermal insulation performance, reasonable design and long service life.
2. Adopts noble molten material for overall molding, with high dimensional accuracy.
3. The launder lining has high strength, scour resistance, heat shock resistance and smooth surface.
4. The flow trough lining has strong corrosion resistance to aluminum, zinc and magnesium alloy, which enhances the transport of molten metal.
5. The use effect of equipment can strengthen the service life of special alloy.
6. During the use of the whole flow trough, the temperature drop of the metal liquid should be within 2℃ per meter, with scouring resistance and heat shock resistance, and the surface is smooth.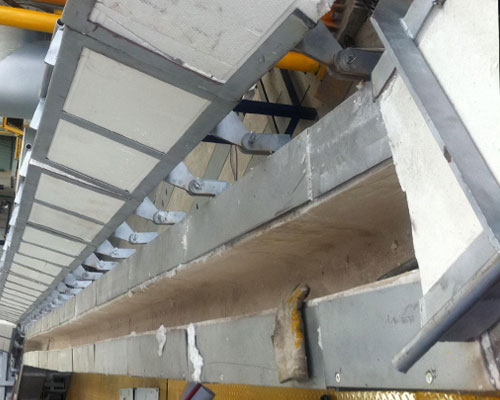 Launder System for Brazil Aluminium has eliminated the problem of temperature drop in the casting launder and ensured the realization of the aluminum ingot casting process. It is helpful to reduce the melting temperature of the casting insulation furnace, reduce the energy consumption of the insulation furnace, and prolong the service life of the flow trough.
South32 and its joint venture partner, Alcoa Corporation, plan to restart the Brazil Aluminium smelter.
First production is scheduled for the June 2022 quarter, with a maximum capacity of 447,000 tons per year for the three lines expected in the March 2023 quarter.
South32 forecasts aluminium production will rise 16 per cent to 1.26m tonnes a year once it is fully operational.
South32 has announced plans to invest approximately US $70 million (AU $97 million) in FY2022 and FY23 to assist the rehabilitation of Brasal, which has been in a state of maintenance and upkeep since 2015.
South32 also said its 40 per cent stake in Brasal would be powered entirely by cost-effective renewable energy.