Molten metal filter for casting is a refining method, ceramic foam filters can eliminate inclusions in the melt and subsequently improve the mechanical properties of the product. In addition, this will also improve the surface finish and tightness of cast products. This greatly reduces rework costs. The usage of Ceramic Foam Filter (CFF) grew continuously in the metal casting process, for the reason that the value-added is greater than the cost of filter application and cost for purchasing filter.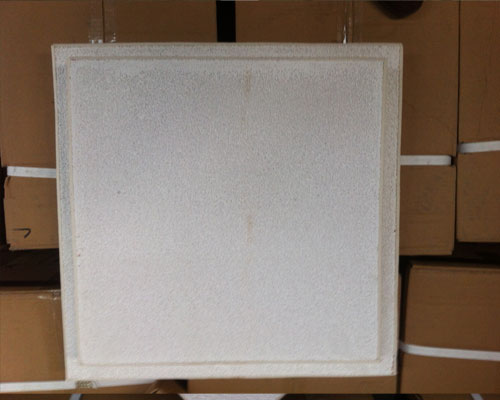 Ceramic foam filter is a phosphate-free high alumina-based product with high porosity, mechanical and chemical stability, and excellent heat resistance and corrosion resistance to molten aluminum, which can effectively remove inclusions and reduce residues Gas and form a laminar flow. The fluidity when filtering molten aluminum allows it to be processed into strict dimensional tolerances during the production process. This combination of physical properties and precise tolerances makes it the first choice for molten non-ferrous metal filtering.
Alumina ceramic foam filters are widely used in molten aluminum filtration in primary and secondary aluminum foundries to effectively remove aluminum slag. They are also used as molten metal filter media for casting in gas-liquid and liquid-solid separation projects.
The ceramic foam filter is equipped with soft/hard gaskets to prevent metal bypass.
Ceramic foam filters sizes: 10PPI, 20PPI, 30PPI, 40PPI, 50PPI, 60PPI. The larger the number, the smaller the aperture. But in actual practice, the four types of 10PPI 20PPI 30PP 40PPI can meet the needs of customers.
30ppi 40ppi Foundry Filter is the most commonly used ceramic foam filter in the aluminum casting industry.
Ordinary aluminum casting usually uses 10-40ppi ceramic filter plates.
Aviation and high-quality aluminum materials usually use 30-60ppi ceramic filter plates.
AdTech keeps focusing on the manufacture of metallurgical material, it is one pioneer following by the International Enterprise, who keeps focusing on the manufacture of the metallurgical material.
1.Ceramic Foam Filter
2.Degassing Unit
3.Filter Box
4.Hot-top casting series
5.Roll casting nozzle
6.Flux series
7.Other Metallurgical Material