Molten Metal Filters use porous ceramic as raw materials. The porous ceramic filter can remove most of the inclusions and impurities such as gas in the molten metal, improving the quality and internal strength of the metal material. Especially in the electronics, electrical, metal precision casting and metal manufacturing is particularly important.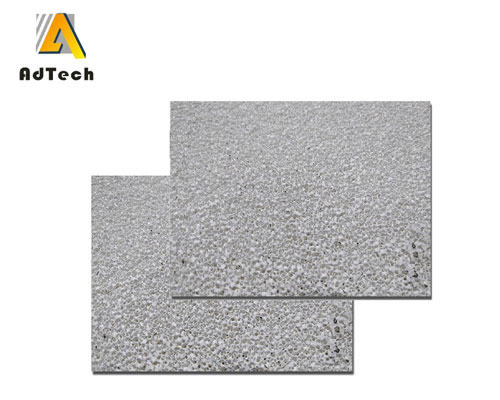 Molten Metal Filters Manufacturer
AdTech Metallurgical Materials Co., Ltd has been focusing on research, development, production and marketing of the adhesive ceramic foam filter(CFF) for aluminum alloy casting Since 2012. With the help of our smart engineers, we have been able to use ceramic casting filters to meet customer needs. We attach great importance to the quality of our molten metal filters products, and our professionals will design these products according to international quality standards. In order to meet the different needs of customers, we provide these filters in different sizes, shapes, and thicknesses. These filters are widely praised in the market for their excellent processing performance, durability and lightweight.
AdTech's ceramic foam filter plate is produced based on carrier with solid reticular structure and combined organic foam pores. The producing procedure is as below, put the carrier into the thixotropic alumina slurry, adopt square to center correcting automatic extrusion process, so that slurry evenly deposits in foam skeleton of the carrier, after drying solidification, then the carrier will turn into the final product by roasting formed under 1180 ℃ high temperature. Filter is installed in the filter bowl for filtrating impurity in molten aluminum alloy, which helps to meet the requirement of production in high value-added, high-tech performance aluminum alloy precision casting, such as computer hard drive, PS baseboard for printing, canning materials, fan blades for turbojet engine, etc.
The liquid filter foam ceramic filter used for casting alloy should have the following properties:
Has appropriate fire resistance and low thermal expansion coefficient.
Liquid metal softens under the effect of long-term deformation and cracking at high temperature.
It has sufficient mechanical strength at room temperature to enable it to withstand transportation vibration during transportation.
In the extrusion process and the impact of high-temperature metal liquid during use.
It has good high-temperature, chemical stability, so that it is not affected by high-temperature liquid metal corrosion.