The Ceramic Foam Filter Novokuznetsk Aluminum is manufactured based on a solid network structure and a carrier with organic foam cells.
The preparation process is that the carrier is put into the thixotropic alumina slurry, and the angular center-positive pressure automatic extrusion process is adopted to uniformly deposit the slurry on the carrier foam skeleton after solidification. After that, the carrier is made into the final product by firing at a high temperature of 1180°C.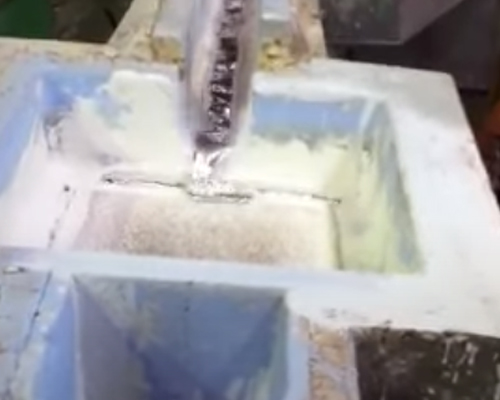 The ceramic foam filter is installed in the CFF filter box to filter the impurities in the molten aluminum alloy, which helps to meet the production requirements of aluminum alloy precision castings with high added value and high technical performance (such as computer hard disks, PS boards).
The foam ceramic filter adopts the adsorption principle, which can effectively remove the large inclusions in the aluminum liquid and effectively adsorb the small inclusions. The ceramic foam filter for Novokuznetsk aluminum casting has a certain strength network structure, which can withstand the pressure difference of the metal liquid surface and the impact of the metal flow, with a large surface area and a good filtering effect.
Novokuznetsk was the first aluminum smelter to be built in Siberia. Novokuznetsk comprises two separate plants, NkAZ-1 and NkAZ-2, located 1.6km distant.
Novokuznetsk Aluminum Smelter has an annual production capacity of more than 200,000 tons. More than 60% of the factory's products are alloys, including multi-components. NkAZ's aluminum is produced in electrolyzers with self-baking anodes based on Soderberg technology and in electrolyzers designed by RUSAL.
The factory produces products for the electrical and aerospace industries, as well as companies that produce building structures, engines, and auto parts. The factory's products are also exported to many countries in the world-Turkey, Greece, Poland, the Netherlands, the United States, Japan, etc.
In 2007, the foundry was modernized: two rotary mixers with high-power MHD stirrers, a Wagstaff casting machine for producing cylindrical ingots, a Hertwich homogenizing furnace and a Brochot metal casting machine were installed.