Ceramic foam materials are very useful in filtering molten metal, especially molten aluminum. It is used to remove or reduce entrained solids from the final cast product, especially when the resulting metal is used in decorative products, such as decorative veneers or plates made of aluminum alloy. Adtech alumina ceramic foam filter has a high-temperature resistance, and its structure will not degrade in harsh environments, it is mainly used for molten aluminum filtration.
The high-temperature resistant ceramic foam filter is convenient to prepare, reasonable in cost, will not pollute the melt, and will not cause the deterioration of the required characteristics in the final metal product.
The ceramic foam materials are characterized by having an open-cell structure with a plurality of interconnected voids surrounded by a net of the ceramic material. For ceramic materials of the same size, the density of the filter is less than 30% of the theoretical density.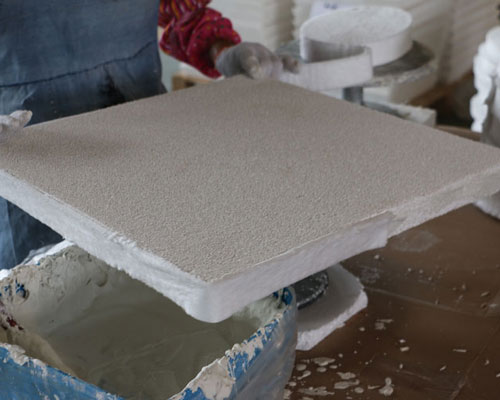 Adtech ceramic foam filter for casting is a low-cost material that can be easily used once. The molten metal is poured into the ceramic foam material at a rate of 5 to 500, preferably 30 to 100 cubic inches per minute per square inch of filtration area per minute to remove entrained solids from the molten metal.
Adtech alumina ceramic foam filter adopts three-dimensional mesh structure and organic carrier connected with air holes to invade special thixotropy special AlO2 quality molten materials, adopting four-square correct center distance automatic extrusion technology, so that the slurry is evenly applied to the foam of the carrier.
On the skeleton, it is baked and cured at a high temperature of 1680°C and has an expanded cotton body sealing edge.
The specifications of ceramic filter plates supplied by our company are: 7in, 9in, 12in, 15in, 17in, 20in, 23in, 26in or customized according to customer's special.