Aluminum is primarily used to produce pistons, engine and body parts for cars, beverage cans, doors, siding, and aluminum foil. It may also be used as sheet metal, aluminum plate and foil, rods, bars and wire, aircraft components, windows, and door frames. The leading users of aluminum include the container and packaging industry, the transportation industry, and the building and construction industry. Molten Alu Refining is important for casting aluminum.
Aluminum can either be produced from bauxite ore or from aluminum scrap. Both primary and secondary aluminum producers do the procedure of Molten Alu Refining, and pour it into bars called ingots. The ingots are shipped to metal casting plants or other shaping plants for molding or rolling.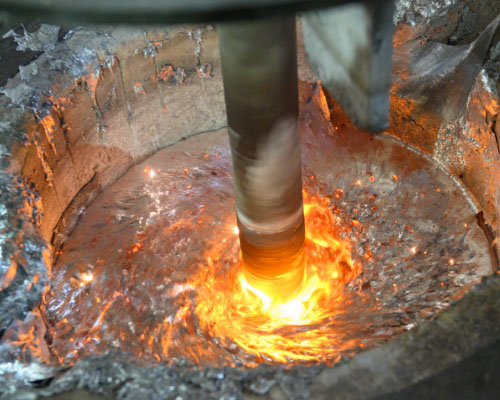 The molten aluminum is then mixed with desired alloys to obtain specific characteristics and cast into ingots for transport to fabricating shops. In the fabrication shops, the molten aluminum or aluminum alloys are remelted and poured into casts, and cooled. Molten aluminum may be further heated to remove oxides, impurities, and other active metals such as sodium and magnesium before casting. AdTech offers Online Degassing Unit, CFF Filtering Unit, Ceramic Foam Filter, Casting Launder, and Fluxes for aluminum refining.
The degassing unit and fluxes are mainly used to refine the molten aluminum, ceramic foam filter and CFF filtering unit are used for filtering the impurities. The casting launder has the function of molten aluminum transmission and thermal insulation. AdTech's products are manufactured with quite powerful processing engineering and very advanced producing technology. AdTech China factory has acquired the ISO 9001 quality system certification and ISO 14001 environmental assessment certification and SGS operation certification. We have successively opened up an integrated system of aluminum refractory materials business in civilian areas, industrial areas, military fields, etc., researched and developed dozens series of product, which fully meets the requirement of customer for various orders. All these efforts enable AdTech developing rapidly and act as the industry leader.