In order to supply molten metal aluminum to the continuous casting machine, a casting nozzle having an extension into the casting roll is used. Nozzles are used to supply molten metal and are also called caster tips. The casting tips determine the width of the aluminum plate during continuous casting.
Molten metal is introduced through opening in tundish to nozzle. Molten metal passes through the nozzle into though-shaped hollow of wheel where the molten metal is held in place by belt until it solidifies by internal cooling. Solidified metal passes over the roller, and belt is separated therefrom at the roller.
Nozzle or tip provides a stream of molten metal to the continuously advancing mold. Tip can have an exit opening width, depending on the width of the continuously advancing mold and whether several openings are used. For purposes of casting quality products free of surface defects, the flow rate of molten metal from the exit entrance of tip along with molten metal temperature must be uniform. That is, flow in tip should be substantially free of molten metal recirculation, detention or boundary layer separation, or thick laminar boundaries. It is believed that boundary layer separation or recirculation, detention of molten metal in nozzle tip, particularly adjacent nozzle exit, can lead to surface defects such as streaking on the surface of the slab, particularly in the case of aluminum alloys.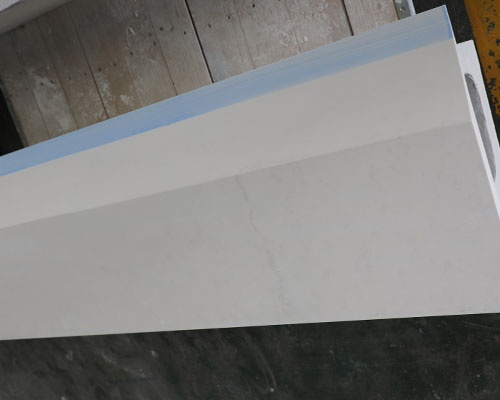 AdTech caster tips are superior products for continuous aluminum strip casting. Aluminum silicate ceramic caster tip is a composite of ceramic fiber and inorganic binder. It has the characteristics of good flexibility, little distortion, and long service life.
Aluminum silicate casting tip material has excellent non-wetting properties, low thermal conductivity, high-temperature stabilities, uniform density, smooth surfaces, and close tolerance. The opening surface and the coating of the working surface smooth, can resistant to the corrosion of the liquid aluminum, guarantee the purity of the aluminum sheet.