AdTech can produce square high-quality ceramic foam filters with different pores per linear inch. Alumina ceramic foam filter is mainly used for the filtration of aluminum and alloy in foundries and foundries. The filter has excellent resistance to molten aluminum erosion and corrosion, can effectively remove inclusions, reduce residual gas and provide laminar flow, and then the filtered metal is significantly cleaner.
AdTech provides these high-quality square ceramic foam filters to customers involved in the production of aluminum plates, aluminum ingots, and aluminum foils.
Ceramic foam filter Pore Size(PPI):10/20/30/40/50/60
30ppi 40ppi Foundry Filter is the most commonly used ceramic foam filter in the aluminum casting industry.
Ordinary aluminum casting usually uses 10-40ppi ceramic filter plates.
Aviation and high-quality aluminum materials usually use 30-60ppi ceramic filter plates.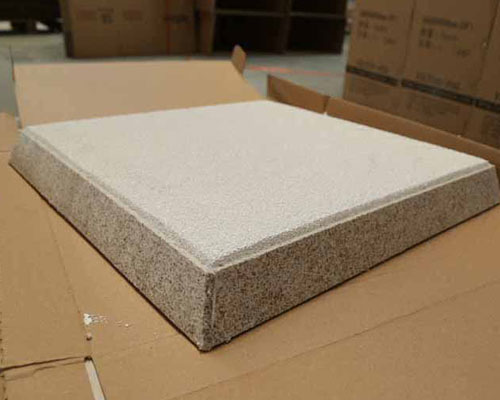 Square Ceramic Foam Filters Advantages
Reduce casting surface defects
Prevent gases and impurities from entering the molten metal
Stable flow of molten metal
Reduce tool wear
Has high mechanical strength
Highly resistant to thermal shock
Easy to place on the production line
Use of ceramic foam filter
Ceramic foam filters produced by AdTech are used for the filtration of molten aluminum in foundries. Our filter has a 3D mesh structure, high porosity and low bulk density. Due to their high thermal shock resistance and corrosion resistance, these filters are favored by customers.
These products can prevent harmful metal intrusion from molten metal, thereby reducing casting defects and improving labor productivity. Even if there are a lot of impurities in the aluminum melt, these filters will not be clogged.
Ceramic foam filters are increasingly used in the aluminum industry. These are special filters made of materials such as silicon carbide and alumina to provide structural stability and ensure thermal shock resistance.
The ceramic foam filter can remove the oxides on the aluminum surface, thereby improving the casting quality. Today, more and more aluminum sheet and aluminum foil manufacturers are using these filters.