Most Bahrain Aluminium Casting Flux is based on a mixture of KCl and NaCl, which forms a low-temperature (665°C) eutectic. Another common ingredient in fluxes is NaF, which forms a ternary eutectic with KCl and NaCl with a melting point of 607°C. A common cover flux contains about 47.5% NaCl, 47.5% KCl, and 5% fluoride salt.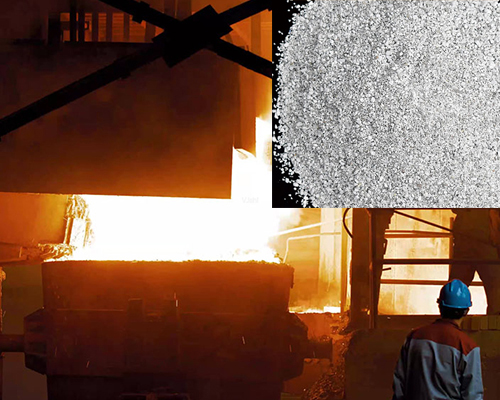 A low melting point is important since it will improve the fluidity of the flux. Other cover fluxes are based on MgCl2-KCl, which forms a low melting eutectic at 424°C, or carnalite (MgCl2×KCl), which melts at 485°C. These cover fluxes have high fluidity and can form a thin layer on the melt surface.
However, MgCl2 is fairly expensive, so it is primarily used in sodium-free fluxes for alloys containing more than 2 wt.% magnesium. They may also be used where it is important to remove calcium in alloys of fairly high magnesium content.
Aluminium Casting Flux is mainly blends of chloride, fluoride salts and special properties additives, the fluxes are sold for Bahrain.
Aluminum Bahrain B.S.C. (Alba) is the first Aluminium smelter in the Gulf region. It is a leader in environmental, social and governance (ESG) and has worked with leading sustainability consultants to develop a comprehensive roadmap to achieve its ambitious ESG goals, in line with Bahrain's commitment to achieve "net zero emissions" by 2060.
Alba's roadmap will set quick wins, short term and long term goals in line with the company's mission to inspire change and encourage it to become an Aluminum producer certified by the Aluminum Management Initiative (ASI).
CEO Ali Al Baqali said of Alba's ESG approach: "We cannot commission our ESG transformation, we have to co-own and embrace it. ESG is not a destination, it's a journey. What we have is agility and today I call on everyone, under the leadership of the Crown Prince and the Prime Minister of Bahrain, to embrace our country's goal of achieving net zero emissions by 2060."