AdTech provides caster nozzle tip for continuous slab casting machines. The nozzle includes a sloped surface which reduces molten metal turbulence during the casting process. The nozzle also includes a resilient, thermal insulation layer which prevents undesired backflow and premature solidification of the molten metal near the caster nozzle tip. The nozzle may also include a friction reducing layer which prevents excessive wear or fracture of the nozzle as it contacts the casting mold. The casting nozzle is suitable for use with both horizontal and vertical continuous casting machines, and may be used with various types of casting molds including continuous belt or caterpillar molds, and stationary molds. The improved nozzle may be used to cast various metals such as aluminum and aluminum alloys.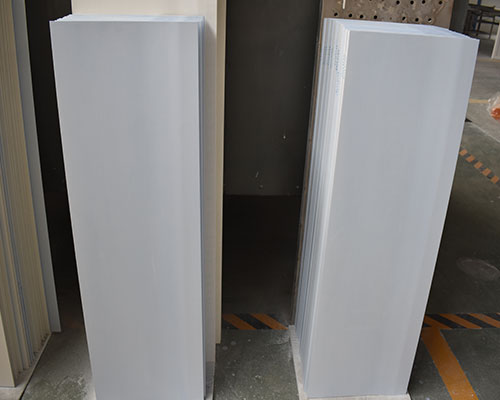 Caster Nozzle Tip Advantages
Adopts nano-scale fibrous composite materials. Its particle size distributes uniform.
Uses a specialized coating on the key parts of the caster tip.
Has advantages of no peeling, non-stick molten aluminum, and good erosion resistance.
The internal structure is designed with a reasonable and symmetrical runner. So as to meet the fluid dynamics requirements of aluminum liquid.
Good heat insulation, in order to effectively control the constant temperature during aluminum casting. It is the best choice for producing high-quality aluminum foil stock.
Low deforming, easy to adjust the roll gap. It can effectively reduce white strip and dark line problems, and improve the smooth surface of aluminum foil.
The aluminum silicate casting nozzle material produced by AdTech is made of ceramic fiber and a variety of other materials. It has the advantages of good elasticity, no deformation, and long use time. Its special process can effectively prevent molten aluminum from eroding the casting nozzle and avoid carbonization. The fracture structure is a fine and uniform layered fiber structure to prevent the existence of flocculent tissue. The coating on the working surface is uniform and smooth to prevent the occurrence of granular cracks and coating shedding, and to provide protection for high-quality cast-rolled plates.