The usage of Ceramic Foam Filters (CFFs) for aluminum alloy grew continuously in the metal casting process, for the reason that the value-added is greater than the cost of filter application and cost for purchasing a filter. Whereas 20 years ago filters were used only in emergency cases but at present filters can be considered an integral part of the casting.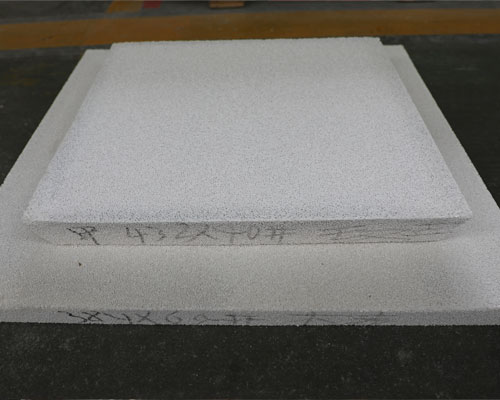 This is due to the advantages of molten metal filtration which can be divided into three categories such as benefit to the foundry, benefits to the foundry customer, and benefit to the final cast product.
Since 1976-2007 several efforts had been done to fabricate various ceramic foam filters in the foundry industry include the U.S.
Low expansion corrosion-resistant ceramic foam filters for molten aluminum filtration. Although all of the filters which have been fabricated in these patents have achieved acceptable ideal properties (high thermal shock resistance, adequate strength, and low density), but none of them have been able to reach an acceptable price.
The present research has been done to fabricate ceramic foam filters for aluminum alloy filtration with new cheaper additives materials and improve a ceramic foam filter for use in the filtration of molten metal, especially aluminum alloys.
The aluminum foundry ceramic foam filters CFFs supplied by AdTech can effectively remove various fineness of molten aluminum into micron-sized inclusions, making aluminum water into a smooth laminar flow, which is good for filling. Ceramic foam filter has good mechanical strength and chemistry. Stability, superior aluminum washout performance. It is tightly controlled by hole size and through-hole ratio for stable filtration. Sealed and heated expanded ceramic fiber gasket around the filter plate, which helps the filter plate in the filter box. The inner seal ensures that there is no metal flow bypass.
Aluminum factory ceramic foam filter is suitable for the production of high quality and high requirements aluminum sheet and foil. Through physical adsorption and chemical action, it can effectively remove various oxidation inclusions generated during the aluminum smelting process, thereby reducing casting defects and improving casting quality.