Ceramic Foam Filters mainly for industrial filters for molten aluminum filtration in foundries and cast houses. With their excellent resistance to attack and corrosion from molten aluminum, they can effectively remove inclusions, reduce trapped gas and provide laminar flow, and then the filtered metal is significantly cleaner. Cleaner metal results in higher-quality castings, less scrap, and fewer inclusion defects, all of which contribute to bottom-line profit.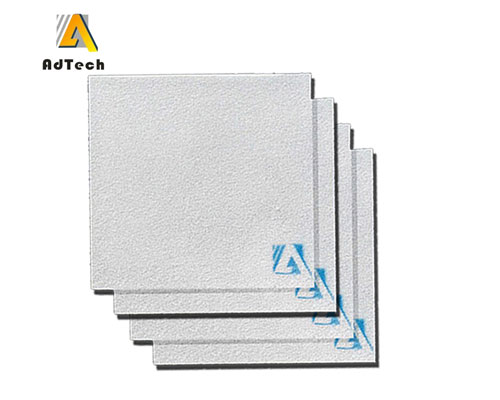 Industrial Filters For Molten Aluminum Filtration Specifications: 7*7in 9*9in 12*2in 15*15in 17*17in 20*20in 23*23in 26*26in, or customized according to customer requirements.
 AdTech Ceramic Foam Filters Performance and Application
Filter-PAl ceramic foam filter can effectively remove and absorb large or small impurities in molten aluminum, improve the surface quality, product performance and microstructure effectiveness. Mainly used in the domestic, construction, electricity, condensing tubes, cable, and other aluminum alloy precision casting.
Filter-PZr filter is produced from high-temperature sintering ZrO2 molten material, usable at high temperature, high strength, erosion resistance, minimal volume change, can effectively filter out micron-scale inclusions in molten aluminum, mainly used in aviation, transportation, and other aluminum alloy precision casting.
Industrial Filters For Molten Aluminum Filtration Features
-Reduce scrap related to inclusions.
-Reduce costs related to inclusion defects.
-Increase productivity with higher extrusion or rolling speeds.
-Increase casting flexibility with easy alloy changes.
-No holding metal.
Alumina Ceramic Foam Filter Reference
1. Aluminum alloy bar choose: 10-30ppi
2. Long-term casting choose: 30-50ppi
3. High-quality aluminum profile or plate choose:40 or 50ppi
4. Double zero wave continuous casting and rolling choose: >50ppi
5. Other specifications can be customized as your requirements
At Adtech, the continual quest is to ensure that our customers receive the best technology available on the market to produce the highest quality billet, slab, or ingot for their customers. Our guarantee does not stop with our customer, but continues to our customer's customer! Our technology guarantees conformance of casting quality for the most critical end-product applications.