Refractory Vacuum Formed Shapes are used in the continuous casting aluminum profile industry and aluminum alloy manufacturing industry, and can achieve significant economic benefits.
The Refractory Vacuum Formed Shapes produced by AdTech is made of high-aluminum fiber, from the original manual process to a vacuum suction filtration automatic equipment molding process, with high production efficiency, high quality stability, and a yield rate of 99%. Ceramic Fiber Vacuum Formed Shapes are available in a wide variety of shape configurations. Refractory Vacuum Formed Shapes are also called ceramic fiber plug, tap out cone.
Aluminum liquid ceramic fiber plug is a kind of fibrous lightweight refractory material. It has the advantages of light weight, high-temperature resistance, good thermal stability, low thermal conductivity, small specific heat, and resistance to mechanical vibration. Therefore, it is used in machinery, metallurgy, chemical industry, Petroleum, ceramics, glass, electronics, and other industries that have been widely used.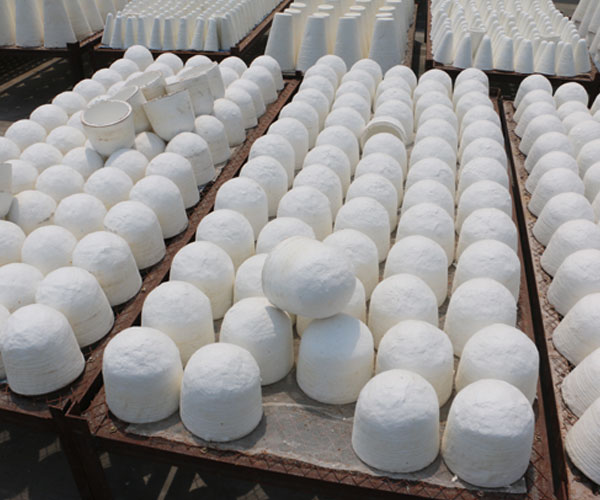 Ceramic fiber plug has uniform mass distribution, the hardness is higher than that of ordinary plugs, and the blockage is tight, and it does not stick to aluminum and does not cause slag. It is used for liquid metal flow control and interception of box and kiln.
The shape of ceramic fiber vacuum forming is made of high-quality ceramic fiber blocks using vacuum forming technology. The purpose of manufacturing these products is to meet the special requirements of insulation in the industrial field.
In order to meet the needs of customers, various products need to use special molds according to their unique shapes and sizes. All Refractory Vacuum Formed Shapes have a low shrinkage at the applicable temperature, and can maintain insulation, lightness and other characteristics. During the use of the product, they will not be attacked by a large amount of molten metal.
Refractory Vacuum Formed Shapes Advantages
Low thermal conductivity saves fuel
Low heat storage, reduces cycle times
Light weight-replaces heavy back-up insulations, less steel required
Excellent thermal shock resistance
Resistant to hot gas erosion
Resists most chemical attacks
Easy to cut, handle and install
Low sound transmission
Resists penetration by molten aluminum and other non-ferrous metals