Alumina Fiber Flow Box and an aluminum liquid level measuring and controlling device relate to an aluminum casting and rolling machine. Includes the installed liquid aluminum front box, plug, controller, eddy current sensor mounted directly above the liquid aluminum in the front box and flow eye for connecting the flow tank to the front box.
One end of the connecting rod is connected with the piston rod of the servo electric cylinder, and the other end of the connecting rod is connected with the plug that controls the opening of the flow eye, and the plug faces the flow eye. The eddy current sensor and the drive plug that detects the aluminum liquid level move the servo electric cylinder and the controller are electrically connected.
High aluminum fiber flow box advantage
The eddy current sensor is used to measure the liquid level of liquid aluminum. It is non-contact detection and does not bring impurities to liquid aluminum. It has high detection accuracy and is not easy to be interfered by external factors. Servo motor cylinder is used to control the reciprocating linear motion of the plug and control the flow of liquid aluminum into the front box. It has a compact structure, short transmission chain, high control accuracy.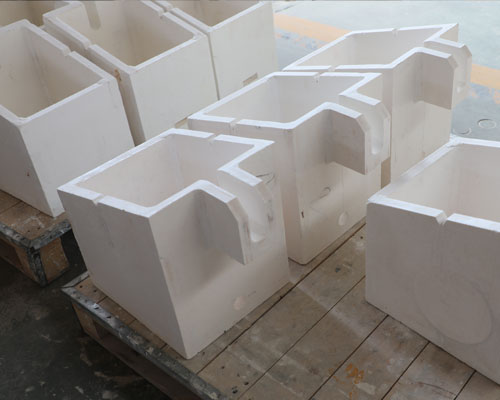 The high aluminum fiber flow box comprises a box body, which is composed of a left box body and a right box body, and an inflow port, an outflow hole and a partition board are arranged between the left box body and the right box body. The right box body is provided with a through hole connecting the left shell and the right shell on the partition board.
High alumina fiber flow box requirements
The liquid level monitoring instrument for aluminum molten liquid before aluminum casting and rolling includes: liquid level detection device on the front box body to detect the liquid level height of aluminum liquid; Temperature detection device, detection of liquid aluminum temperature.